September 29, 2022
JMI Executive Roundtables Are Back!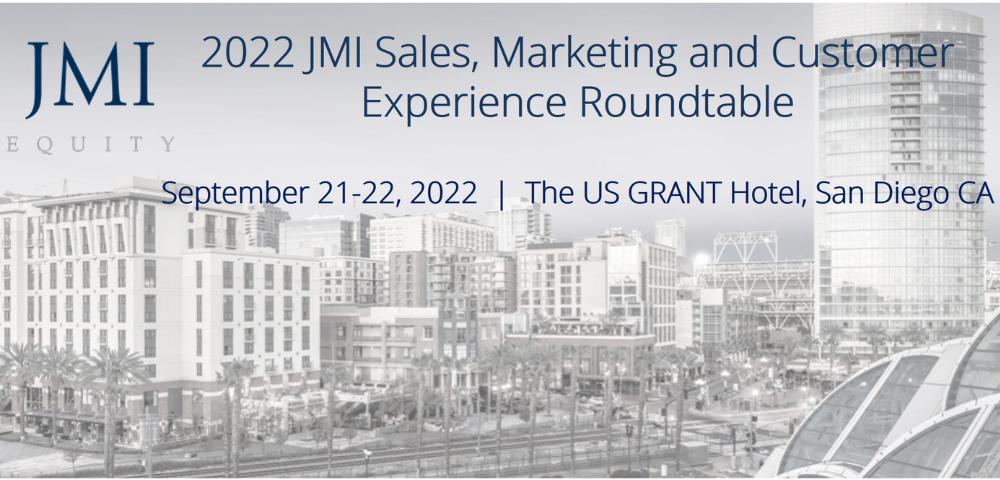 More than 100 Growth Company Software Executives Came Together for JMI's Annual Sales, Marketing and Customer Experience Roundtable in San Diego, CA
In September 2022, JMI's annual in-person roundtable series returned, bringing together more than 110 sales, marketing, and customer experience leaders in San Diego to network, share best practices, and discuss common challenges.  Attendees represented more than 35 B2B software companies from across the United States, Canada, and the United Kingdom.
The event began with a lively and informative networking dinner, followed by a full day of programming, including keynote presentations, functional and cross-functional break-out sessions, panels, and workshops.
One of many event highlights included a discussion of alignment around a documented growth strategy – who to sell to, what to sell, how to win, and what each function needs to do to achieve success. Tim Riesterer, Chief Strategy Officer of Corporate Visions, followed with an instructional keynote on the power of delivering messaging through storytelling for specific audiences. Tim painted a thought-provoking picture of how buyers frame value and make choices, and how companies can tailor their approach to match buyer-specific motivations and psychology within each moment.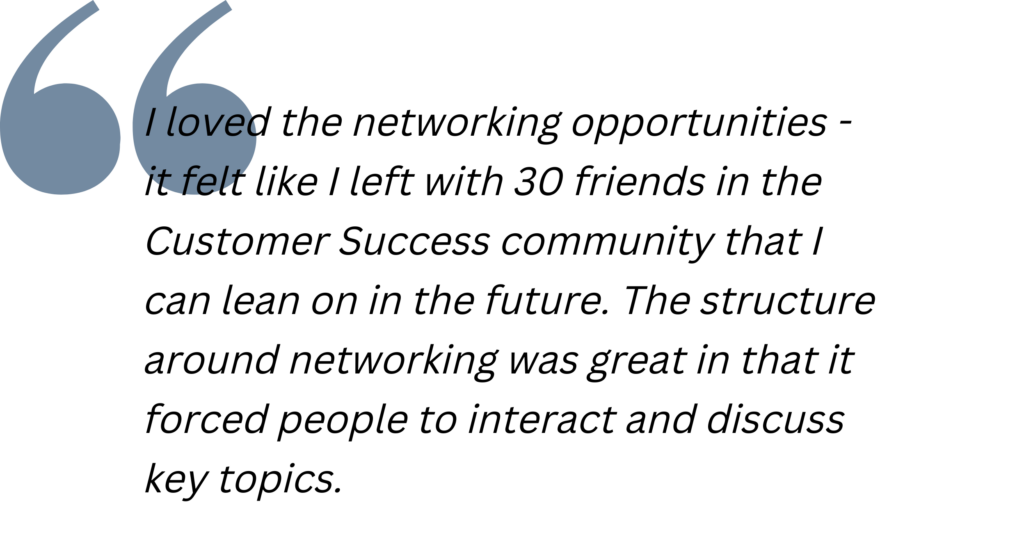 Break-out session covered topics such as demand creation vs. demand capture, driving sales productivity, building a customer advocacy program, and outcomes-based approaches to customer success, among others.
Josh Horstmann, Senior Partner at SBI, capped the event with a second keynote focused on GTM planning, sharing SBI's latest research on how the macro-economic environment is impacting FY23 growth planning and how executive teams should work together to develop an executable plan.
We extend a huge "thank you" to our keynote speakers, our portfolio company presenters and panelists, the JMI Operating Advisors who led the breakout sessions, and to all of our attendees for bringing the energy and openly sharing their thoughts and challenges.  We are grateful for the opportunity to bring together and learn from such a talented group of executives.
We look forward to hosting our Product & Technology Roundtable in Baltimore in October 2022.  2023 will feature the full slate of JMI's Executive Roundtable Program, including the Sales, Marketing & Customer Experience, and Product & Technology Roundtables, as well as Roundtables for CEOs, CFOs, and People Leaders.