October 31, 2023
JMI's Go-To-Market Roundtable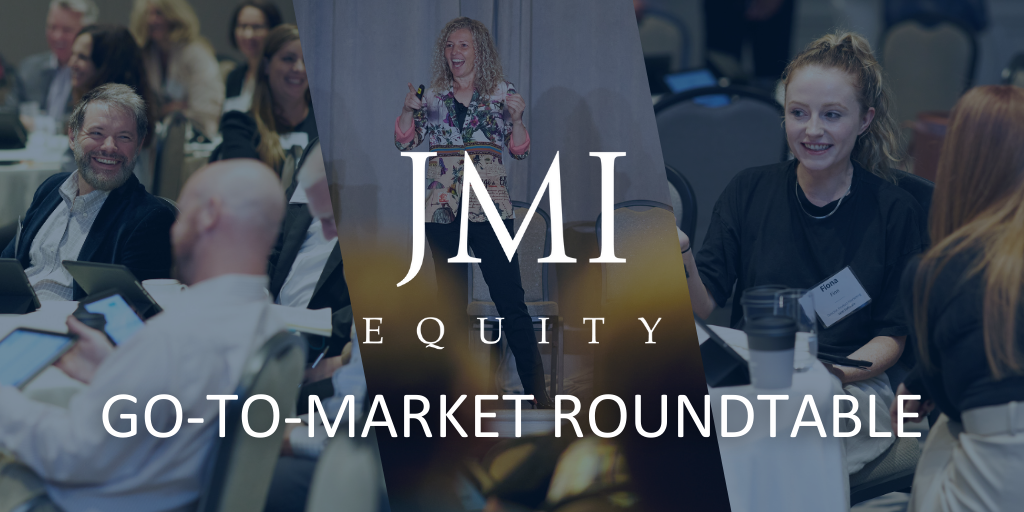 More than 120 portfolio executives, specializing in sales, marketing, and customer success, assembled last week in San Diego for JMI's Go-To-Market Roundtable.
The two-day event began with a networking dinner that set the stage for relationship-building and laid the groundwork for a day of insightful conversations.
The event content, which included various keynotes and breakout sessions to inspire knowledge sharing, focused on driving greater efficiency in go-to-market while still emphasizing growth, a theme that resonated with energy and collaboration from attendees.
Diving into the key themes, a major emphasis was on understanding human behavior to influence go-to-market strategies, particularly through the lens of "The Neuroscience of Motivation", a keynote by Dr. Carmen Simon, Chief Science Officer at Corporate Visions. Dr. Simon touched on key attributes that help leaders to motivate employees in times of fewer resources, as well as engage prospects in times of hesitancy to act through incentivizing forward movement.

The potential of AI in B2B customer journeys was also a major focus of the event. The discussions revolved around starting small with AI, allocating resources judiciously, and being vigilant in the rapidly evolving AI landscape. Another key theme that underscored many discussions was the role of data-driven insights in guiding customer decision-making, from understanding why you win and lose and preventing churn, to optimizing rep productivity and conversion rates.
Echoing the spirit of our previous Roundtables, the emphasis remained on actionable insights that attendees can seamlessly integrate into their companies, driving growth and innovation.
A big thank you to all attendees, especially the keynote speakers, portfolio presenters, and our Operational Excellence Group who meticulously pieced the event together. We are deeply grateful to our portfolio leaders for their continued leadership, their generosity in sharing experiences, and their transparency in discussing opportunities.
Our 2024 roundtable calendar is coming soon; we are excited to feature events for leaders of all functional areas.