July 18, 2023
Product + Tech Roundtable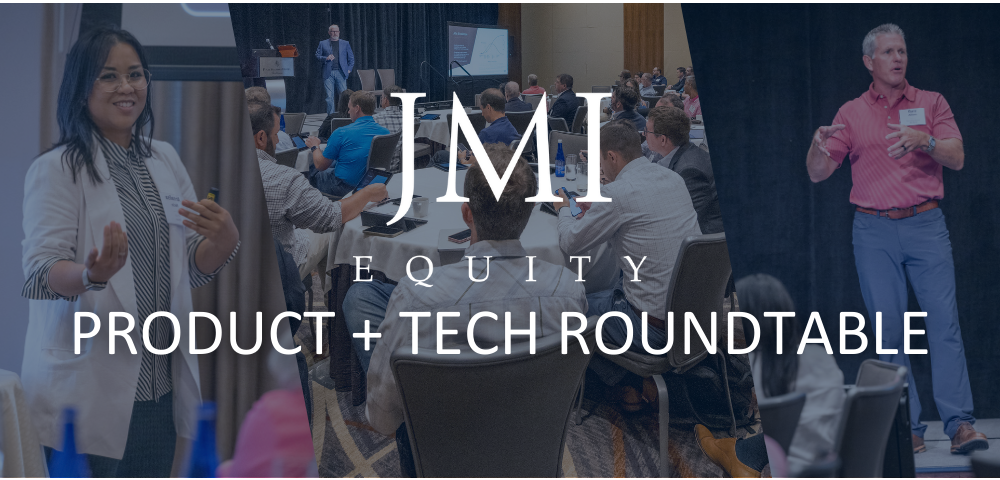 More than 70 executives leading product management, engineering, security, and payments at JMI portfolio companies gathered in Baltimore last week for our Product & Technology Roundtable.
Generative AI headlined the large group and breakout sessions, which featured industry experts, peer company leaders, and JMI Operating Advisors. Speakers also addressed security, product vision, leadership succession, and corporate culture.
A hallmark of JMI Roundtables is practical knowledge – "how to" advice attendees can implement in their own companies. Our deep dive on AI spanned strategy, success stories, and coding demonstrations. Using AI, companies can uncover value hidden in their data on markets and customers, and developers can write better, faster code, thus creating competitive advantage in solving problems for their customers.
Dr. Ben Herndon from Kungfu AI began with a call to action, emphasizing the urgency to act now to evaluate opportunities and risks of Generative AI. He provided a roadmap for AI strategy addressing competitive disruption, corporate valuation, and investment justification and he compared the features of currently-available large language models.

Building on this strategic foundation, JMI Operating Advisors led a panel of portfolio company executives who shared AI success stories and cautionary tales. Tyler Foxworthy from Greenlight Guru was a highlight as he discussed AI applications relevant to SaaS companies, including chat, text analytics, and search.
Security was also a popular topic as it needs to be a top concern for every software company, regardless of size. Tom Lawrence from Lawrence Technology Services shared detailed examples of actual security breaches to help attendees understand vulnerabilities and how they might be mitigated.
Select key take-aways from other sessions: Companies need to document a product vision – without it, they become a "feature factory" saying yes to everything. Product teams have a culture as much as a company has a culture – leaders need to define it and recruit for it. Payments is a growing and strategic revenue stream for many tech companies, but it's often seen as a side business as opposed to a primary value driver, which it can, and often should be.
In September, JMI will host a CEO Summit in Houston, followed by a Go to Market Roundtable in San Diego in October 2023.