February 9, 2023
Powering Innovation in the Community Association Management Industry: Our Investment in Vantaca
By: Dave Greenberg and Andy Knox
We were excited to announce our partnership with Vantaca in September 2022, a leading community association management (condominium homeowner, together "HOA") software company. While the press release provided some detail on the investment, we share more insight below into all of the reasons we're ecstatic to work with Vantaca's CEO Ben Currin and Founder Dave Sweyer.
Secular Tailwinds Driving the Need for a Cloud-First Alternative:
It is not often that a market impacting 30% of the U.S. population is underserved by cloud software. After spending years speaking to constituents across the HOA ecosystem, it was clear that there was a need for a modern platform to enable HOAs to work smarter, faster and happier, and to provide a better resident experience to the 75+ million people that live in community associations.
The number of Americans living in an HOA has grown at a ~7.5% CAGR since 1970, more than 7 times faster than U.S. population growth. This trend shows no signs of slowing, as 2/3 of all new homes built are in community associations.[i] The majority of the 360,000 community associations in the U.S. utilize property management companies that oversee everything from day-to-day operations (e.g., maintenance, architectural requests, etc.) to collect resident assessments (assessments pay for communal area maintenance, capital improvement projects, utilities, etc.), and work with HOA Boards of Directors on financial reporting and approvals.
Several key factors have driven the growth of Americans living in community associations, from shrinking state and local government infrastructure budgets, resulting in the privatization of municipality functions, to homeowners leveraging property management companies to help maintain property values, as well as homeowners increasingly embracing community living as a way of life and more.
As the structural shift in American living continues, HOA management companies face increased operating complexity and scalability requirements that Vantaca was built to help address.
Vantaca, Built with Deep HOA Domain:
When we first met Ben and Dave, we were immediately impressed by Ben's leadership honed from nearly a decade as a Naval Officer and Dave's deep HOA domain knowledge collected from owning and operating a HOA management company for 30 years. Like the leaders of other vertical market software companies that JMI has partnered with, including PointClickCare, Clio and automotiveMastermind, Ben and Dave have built Vantaca with a relentless focus on product innovation and customer centricity.
Vantaca's cloud-based platform, built by a team with decades of HOA experience, is at the nexus of constituents across the HOA ecosystem and delivers value to all stakeholders – owners, operators, management teams, boards, associations and homeowners. More than accounting and management software, Vantaca is a business operating platform that directly integrates into Vantaca's large ecosystem of partner banks, eliminating time-intensive and manual billing and payment processes. The platform also includes resident facing functionality, including Customer Relationship Management (CRM) that consolidates resident engagement and a homeowner portal enabling resident self-service, as well as board facing functionality (proactive reporting, approvals, etc.) and much more. The combination of a robust, innovative platform and relentless customer focus has resulted in 98%+ customer retention annually since Vantaca's founding.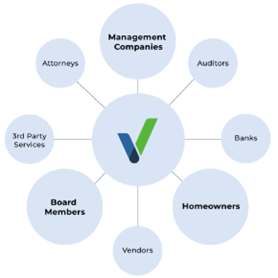 Building for Long-Term, Durable Growth:
Vantaca now serves more than 27,000 community associations and 3.5 million homeowners and is investing for the long-term. CEO Ben Currin highlighted, "since Vantaca's founding, we have thought about our goals over a long timeline. Bootstrapping for the first several years allowed us to build an efficient, sustainable business that did not need to compromise our long-term vision to achieve short-term results."
Following JMI's investment, Vantaca added nearly 60 full-time employees in 2022, more than half of which were in the Product and Engineering organization. Included were the additions of a number of key leaders: Lisa Leath (Chief People Officer); Robert Carlson (Chief Financial Officer); Jason Mundy (Chief Marketing Officer); Mike Farley (Chief Sales Officer); Neil Axe (Vice President, Payments); and Will Davy (Director, Corporate Strategy).
We look forward to supporting Ben, Dave and the entire Vantaca team as they bring innovative, cloud-first software to community associations across the U.S.
If you're interested in learning more about Vantaca or our partnership, please read the press release or give us a call; we look forward to connecting on how the business is revolutionizing the way communities across the country operate.
[i] Data Source: 2021-2022 U.S. National and State Statistical Review, Foundation for Community Association Research.